Powerful, Easy-to-Use MP3 to DVD tool for you, Help you enjoy your wonderful video more freely.
AVAide
MP3 To DVD Burner

Do you want a DVD of your favorite songs?AVAide MP3 to dvd burner can burn MP3 music into DVD AUDIO DISC so that you can listen to your favorite songs with any DVD player, for example, vehicle DVD player or your mobile DVD player. Any DVD player will recognize your DVD AUDIO DISC.

With AVAide MP3 to DVD burner you can burn a thousand MP3 to one single DVD AUDIO DISC. Moreover, you can easily select among the songs with its DVD menu navigation. AVAide MP3 to dvd burner adopts the most advanced audio coder, which ensures the high tone quality of the DVD AUDIO DISC.
With its user friendly interface, you can create you own DVD AUDIO DISC without prior learning. Download and try it now, the best choice you've ever had!

Help:
1. Click "Add file " button to add mp3 file.

2. Click "Open" and then wait a second.You will see the below picture.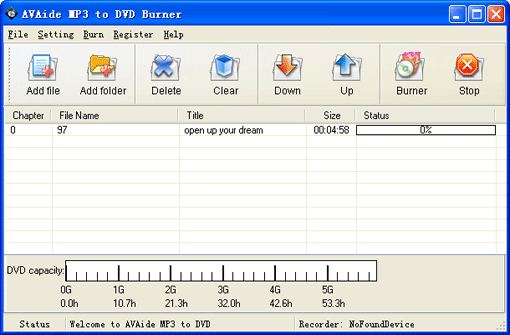 3. If you want to convert entire MP3 to DVD file just click "Burner" to start the conversion.

4. You will select the save path

5. Click the "OK" Button then wait a shot time,you will have what you want.
For more instructions you can get from the help file of the product.

Products:

AVAide DVD Ripper
Rip DVD to MKV, DVD to AVI, DVD to MP4, DVD to MPEG, DVD to iPod, DVD to MP3, DVD to All.

AVAide Video Converter
Convert MKV to iPod, AVI to iPod, FLV to iPod, MPEG to DVD, MP3 to DVD, MKV to 3GP, WMV to iPod, etc.
What's New:

AVAide DVD Ripper - 28/4/2008 Release
Rip DVD to all popular video or audio formats like DVD to MKV, MPEG, WMV, MP4, AVI , MP3 etc.


AVAide Video Converter - 26/4/2008 Release
Convert video between all popular video formats like mkv to ipod, mkv to avi, mkv to dvd, etc.

DVD To MKV Converter - 16/4/2008 Release
which helps you Convert Video from DVD to MKV (Matroska Video) with amazing fast and quality.
What can you do?
Partner Links